By Aisha Sini // @aishasini
If you're heading to Falls Festival this year and you're looking for a festival 'fit, we've got you covered! We love a good festival almost as much as we love clothes, so we put together the five hottest Falls Fest looks for you!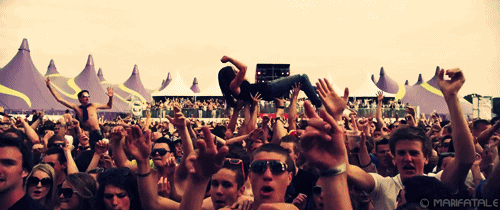 Barely There
If you want to make a statement this Falls Fest, why not mix it up with something
barely there? Adding a sheer overlay like the Silvermist Dress or Elodie Skirt lets you show off some cool prints and styles underneath, and your fresh tan can peep through!
Fab Fluro
Would it really be a festival without bold, bright colours? Fluro is definitely making a splash this year, and the best part is you can choose to rock it in your fave colour like pink, yellow, orange or green! It looks super cute as a monochromatic outfit like the Louie Unitard, or add a statement with the Y R U Nightmare Reflective Boots.
Pretty Patent
If you're after a grungy-but-sexy kinda vibe, patent leather has got to be the go for you. Think Posh Spice at a festival! You can rock this trend as an outfit with the Patti Dress in Black or Red or add an accessory like the La Lune Thigh Strap. Be sure to get a Boomerang to showoff the shine!

Big on Bike Shorts
Bike shorts have been a festival trend that keeps cycling back around, but this year we're going big baby! Think every shade of fluro, leather, and snakeskin. Plus, you can make it a two-piece with a matching top or mix it up with a bikini top or plain tee. Our top picks The No Karma Shorts, and Solardo Safari Shorts.
Smock it to me
Something about rompers are literally so convenient! So, if you're looking for a one- piece that's cute and festival approved, we've got you! Check out the Charlie Zip Up Romper, No More Drills Playsuit and Southwest Boiler Suit for utilitarian-chic
style.
Got more festivals coming up?
Shop the entire Beginning Boutique festival collection for endless options!